Hall Of Fame Classic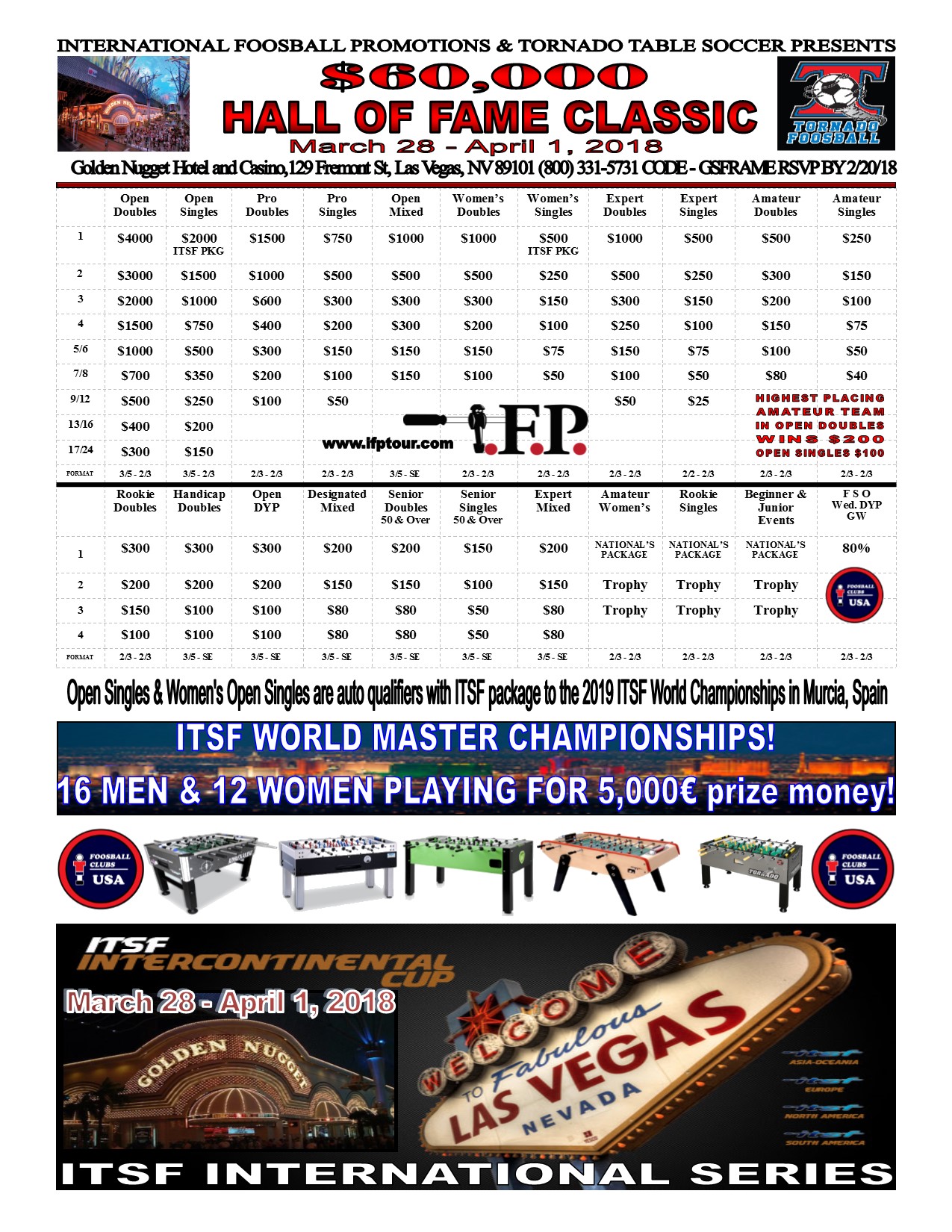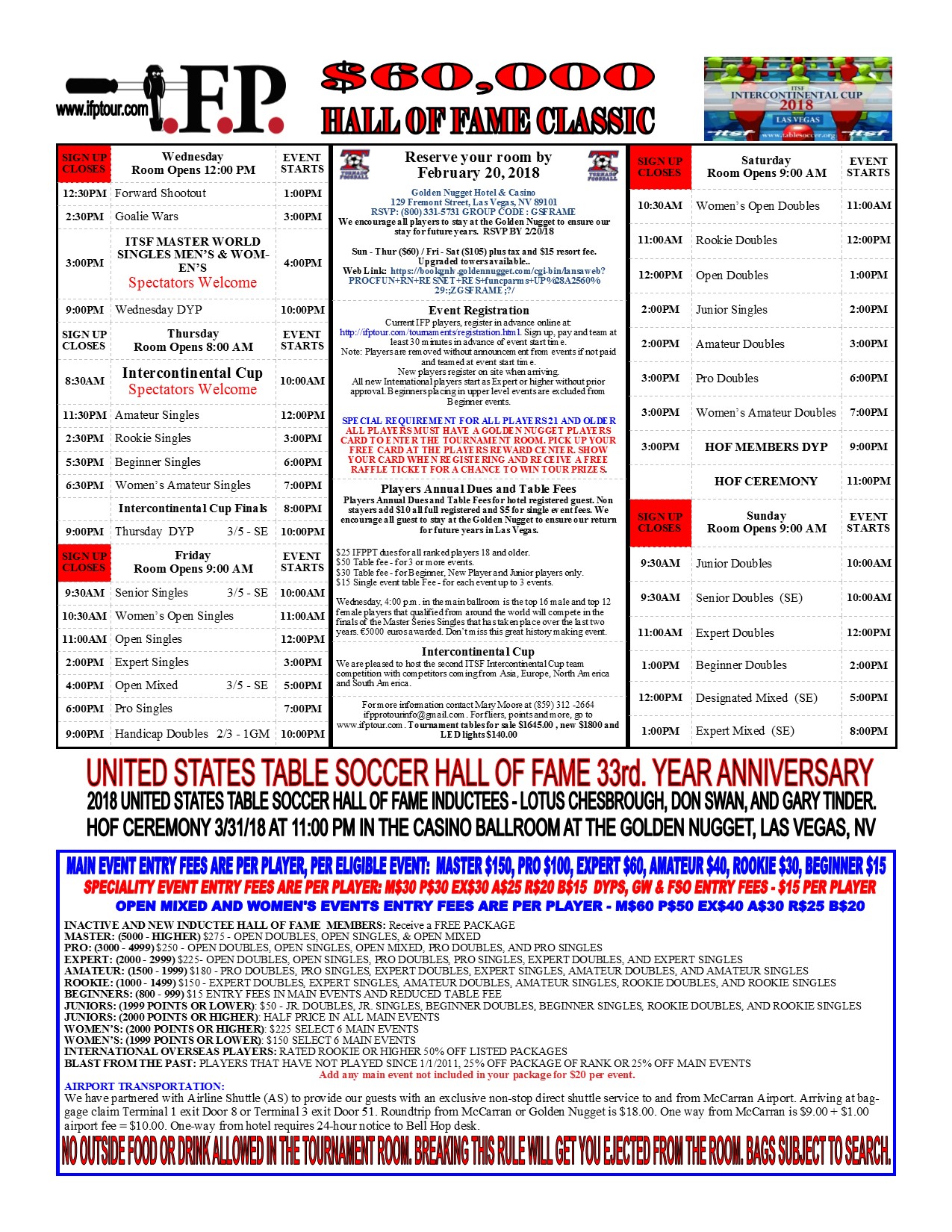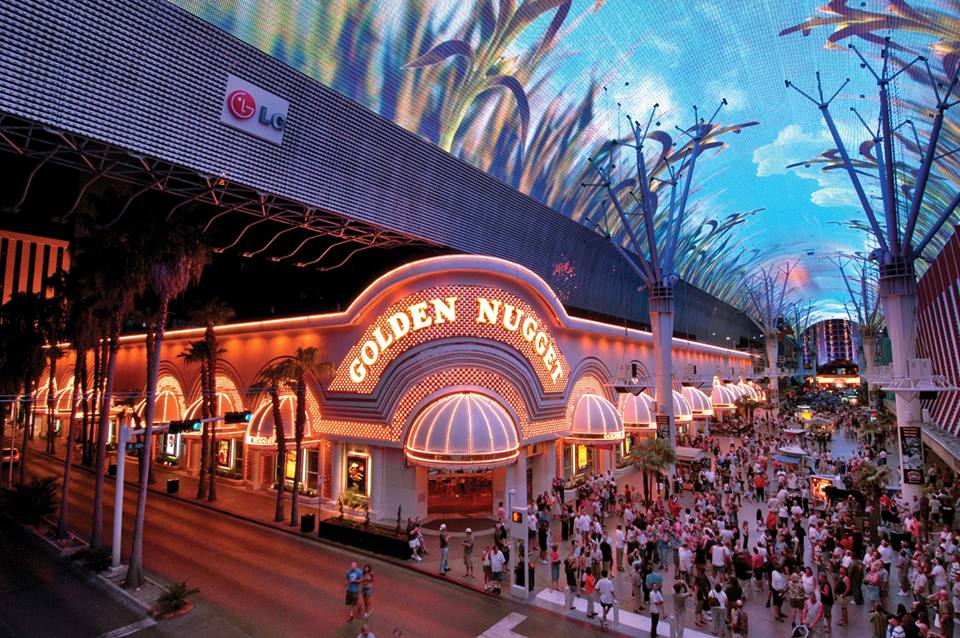 2018 Hall Of Fame Classic - New location!
ANNOUNCING 2018 HALL OF FAME CLASSIC, MARCH 28 - APRIL 1, 2018, SHALL BE HOSTED AT THE GOLDEN NUGGET ON FREMONT STREET! FOOSBALL RATE FOR CARSON TOWER. WED $60 THUR $60 FRI $104 SAT $104 SUN $60 RESORT FEE REDUCED TO $15 INCLUDES INTERNET, TWO BOTTLES OF WATER AND FREE PARKING. RESERVATIONS CAN BE MADE SOON. UPGRADES TO OTHER TOWERS AT REDUCED RATES AVAILABLE I WILL PASS THIS INFORMATION TO YOU WHEN WE HAVE EVERYTHING SET IN PLACE. WE ARE FREE TO EAT WHAT EVER WE LIKE NO HOSTAGE TO CONCESSION FOOD AND DRINK. MORE INFO ON THE TOURNAMENT IN THE NEAR FUTURE. BALLROOM LOCATED IN CASINO. DIRECT SHUTTLE FROM AIRPORT FIRST STOP GOLDENNUGGET, COST AROUND $8.00. WE SHALL BE HOSTING THE 2ND INTERNATIONAL CONTINENTAL CUP. WE WILL ANNOUNCE THE 2018 HOF INDUCTEES AT WORLDS. MAKE YOUR PLANS TO ATTEND.
Tournament Info