Live Streaming




Table 1

Table 2
IFP Professional Players Tour Information
2013 Nationals/North American Cup




Online Registration open today 5-13-13
RSVP your rooms @ the Sheraton Chalet (closest to the tournament room) by June 15th to get the special rate!
ONLINE REGISTRATION IS OPEN! register your events, team up your partners
dont forget to download your N.A. Cup Team Form
Thank You, and we all hope to see you there!

Register Online!




Go to the Online Registration to register your events here:

....or you can check Everplay live brackets & matches!!

2013 Nationals/North American Cup




Nationals information, click below

see the 2013 IFP Tournament Schedule....

Hotel Information




Sheraton, Westport Village

book here!




Recent Results from IFP Tournaments




European_Open RESULTS click here

MORE Results from tournaments.......

Tables For Sale!




Video Productions




Inside Foos Productions

INSIDE FOOS brings you the action via LIVE streaming broadcast @ major events! Order your DVDs at INSIDE FOOS PRODUCTIONS

New 2013 Rankings!




550-600 New Player
601-700 Beginner
701-1000 Rookie
1001-1500 Amateur
1501-2500 Expert
2501-4500 Pro
4501-6500 Elite
6501-up Master
see Player ratings.....
About: Independent Foosball Promotions
We are very excited to encourage a younger generation of foosers to get involved in foosball, while taking tournament play to the next level for the current players on tour.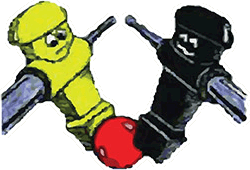 One of our main goals from the very beginning was to run quality tournaments for all foosers, from professionals to beginners. As we expand, we focus our efforts on growing the sport of foosball, and there's still ample room for progression. We plan to do this by bringing in many quality sponsors, thus allowing us to provide a decent living for all those individuals making foosball their livelihood. Foosers do not make enough money, but our goal is to have the top master players on tour make a great living playing the sport they love. Along with our friends over at Tornado Table Soccer and with the help of foosers everywhere, we will work tirelessly to make that goal a reality.