The History of Independent Foosball Promotions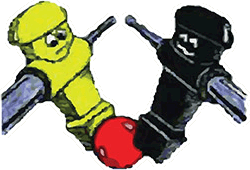 Independent Foosball Promotions was founded by Mary Moore in 1992. She held the first tournament at Kentucky State with $3,500 in prizes and 100 players. IFP ran two tournaments a year until 1998 when it expanded into the tri-state area. By 2007, Mary was constantly on the road to oversee or help with 22 annual foosball events.
Starting in 1995, IFP began hosting the Superbowl of Foosball. It was the first IFP event that featured $1,000 prizes across the board in all divisions. Within two years the Superbowl of Foosball was attracting 400 players and 150 spectators.
IFP added the US Open to the tour in 2007. The US Open is held in beautiful Atlanta Georgia and was an immediate crowd pleaser. 2007 also marked the year IFP teamed with several promoters in the states of Maryland, Michigan, Oklahoma, New York, Florida, and Colorado. This dramatic expansion to the IFP spread events throughout the U.S.
Important Information
IFP Tournaments are run on Everplay software
15 to 20 Tournaments a Year
In 2008, IFP gave out a quarter million dollars in prize money and prizes
Kentucky State alone has $50,000 in prize money and attracts 350 to 400 players